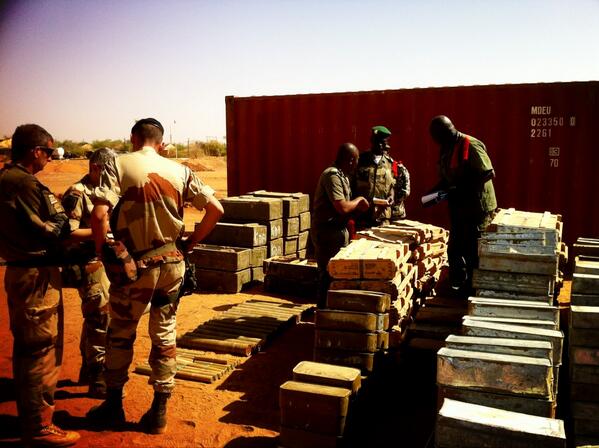 Courtest of Mbokoniko Nicolas Frébault

This time next month the major component of the French military intervention in Mali is going to be heading home. However, this has not halted the debate over the reasons for France's involvement in Mali in first place. Interestingly, it is the African journalists rejoicing and describing France and Hollande as their saviours, making the whole thing seem like a jovial neo-colonial favour. Meanwhile, parts of the Russian and Arabian press remain highly critical, citing geopolitics and West Africa's resource endowment as the real pull-factors in the French decision to intervene. These arguments are compelling, however a huge part of the French timing of their intervention and their withdrawal are linked to the domestic political landscape in France.
Quite incredibly, as this research shows, France has conducted 46 separate Military Interventions in Africa between 1960 and 2005. What constitutes an intervention may be contestable, but by the standards set out in the research above the military campaigns France has led in Libya and Mali in 2011 and 2013 should bring this total up to 48 – averaging just under once-a-year since a wave of African states, including Mali, gained their independence 53 years ago.
In their own words, one would suspect that the French would describe their mission as overwhelmingly successful. As Oussama Romdhani summarises:
"Five weeks after the start of their military campaign, the French believe they have already achieved about "70% of the set-objectives". They have indeed retaken the cities of Gao, Timbuktu and Kidal. Then, with the help of Chadian and Malian armies, their expeditionary forces have dealt heavy blows to Jihadist positions in the Ifoghas and Timetrine regions, north east of Mali….Compared to the relatively limited casualties in the French expeditionary force, hundreds are said to have been killed in the ranks of Ansar al-Dine, the Movement for Oneness and Jihad in West Africa (MOJAW) and Al-Qaeda in the Islamic Maghreb (AQIM)…"
But the important question remains begs to be answered: "… is there reason to believe there is a clear endgame in sight here?" Does the timing of the French troop withdraw going to impact positively on Mali?
There is much doubt that this was a consideration in the decision to withdraw at all. It is end-game time for France, and that's that. As Romdani points out the "quagmire syndrome" is choking the halls of the French foreign ministry. The quagmire syndrome is a historic problem, a ghost that haunts countries who have ever had a fairly miserable experience conducting a military intervention and fear a recurrence of the rolling difficulties, plunging approval ratings, spiraling costs, and mounting body count. The enthusiasm for the war in Mali amongst French people, especially people of the political right, is quickly departing. This war in Mali – a victory for Hollande – is slowly becoming a vulnerable flank to attacks from the hawks of French security policy. The press is turning and it is time to get out. April has been announced as draw-down date and will see all but a fraction of the French forces return home, or relocate to relocate to Niger. As William Terdoslavich writes in reference the American experience of Vietnam; botched and bloody interventions haunt political elites long after they finish.
But as Romdani wisely notes "quick military victories alone will not provide an endgame for the Sahel's widening arc of crisis." Reprisal suicide bombings are jeopardizing the French's ability to get out swiftly and successfully state the case that everything is done and dusted. This violence is a potential spanner in works for the way the world will view French withdrawal plans, but it seems pretty clear that France are leaving next month anyway. If France adamantly stick to their self-declared withdraw date – in this setting – they run the risk of appearing to be trying to wash their hands of their responsibility of not getting a the job done. France is getting out of there and is medicating the 'quagmire syndrome' with a strict regime of treatment and is willing to take a risk on its credibility for it.
Where does this leave Mali, and what does the rest of the world planning to do about it? The Malian army cannot be left to fend for themselves just yet. During the most intense period of the conflict "some of the Malian soldiers ran out of ammunition before the jihadists did." But everyone isn't leaving. Yes, it is the plan that the majority of the fighting will not be done by the armies of Western countries from now on, but that does not mean these armies have not remained behind in some capacity. The EU is introducing a force this spring for a period of about 15 months which will aim to support the Malian army in securing the gains of the last few months. The French, joined by the Czechs, will retain a combat role in defence of infantry training personnel from the Republic of Ireland and 40 troops from the United Kingdom. Whilst most of the British troops will carry out mortar and artillery training, it is a welcome sign that four UK personnel will be headquarters-based alongside three civilians from the Foreign Office's Preventing Sexual Violence Initiative who will provide human rights and gender awareness training. The UK government continually stresses that its contributions will not be in combat roles, further evidence of our obsession in avoiding the quagmire. This leaves the remaining French forces to do the taxing job of scouring Mali's dry, rocky and unforgiving landscape, or 'Planet Mars' as it has become known.
The stability of the situation on the ground remains confused. Diplomats from the United States are convinced everything is chugging along smoothly and have already committed $6.6million toward elections. Instability remains widespread. Malian everyday tells a slightly less chirpy story. As was suggested in an earlier article written by the author, militarism usually brings more militarism. "Striking knives into wounds rarely cause them to heal any quicker." In response to "France's Crusader Campaign" Al Qaeda in the Islamic Maghreb (AQIM) have appealed for the "sons of Tunisia, Morocco, Libya, and Mauritania, to thwart the attack of Crusader France and defeat its agents in the region, and empower the Islamic project." France can claim to have dented this call to arms by killing one of the leaders of AQIM. But when in the War on Terror has decapitation ever stunted the long term war-preparedness of Al Qaeda and its associates? These wars are not frontier wars with battle lines drawn, with enemy armies to crush and rout off a designated battlefield. It's not about seeking terms and surrender. Taking out significant members of armed rebellions rarely translate into a crushing the willingness to fight, because the reason for taking up arms isn't mercenary. The difficulty in attempting to deliver 'knock-out' blows on any large network of armed groups is that reports of enemy deaths can be so easily contested. For example, the world seems unable to confirm whether the notorious architect of the Algerian hostage crisis, Mokhtar Belmokhtar, is dead or not.
Someone who had met Belmokhtar on quite a few occasions is Dr. Abdoulaziz Maiga, a family practitioner and aspiring surgeon at the Hospital of Gao. According to Anne Jolis of The Wall Street Journal Belmokhtar is 'just another patient' for Dr Maiga – "sometimes he came to the hospital and sometimes we went to his house. But it was purely medical." In an amazing article, Dr Maiga takes us on his journey through his experience of the war, occupation and his interactions with the Belmokhtar and his soldiers. Despite the strength of the French in battle, he states that the militants remain "strong and they're dangerous. With all that we've survived here, no one feels secure. Even with the French here, they're still capable of doing things." As Jolis continues:
"It's not hard to see why Dr. Maiga does "not have confidence" in French talk of an imminent troop drawdown—and why he might dread that development. If the jihadists ever manage to retake Gao, it will likely mean a return to the most harrowing period of the doctor's professional life…assisting in the dismemberment."
Dr. Maiga was forced to cut, repair and dress the stumps of their victims. He found it very difficult. He went into medicine to combat disease and infection, but now appears to be burdened with the guilt of assisting in nine Shariah-prescribed amputations. Like every other resident of Gao with whom Jolis spoke, Dr. Maiga doesn't really believe the jihadists have gone anywhere. "Mujao is very powerful," he says.
So the French are leaving, but the situation does not seem one primed for their departure. There is an explanation. As the editor of Think Africa Press explains, the reason the withdraw has to be now is in line with the justification for intervening in the first place. It's not neo-colonialism. Despite France's "sorry record of neo-colonialism in its former colonies" this intervention "is not an example of it." Apparently it's not as a result of Mali's resource endowment or "strategic importance" either, but rather a combination of three prevailing narratives. One is combating Islamist militants in a broader War on Terror and another is salvaging a chunk of domestic popularity. The third is because France was asked to by the government of Mali. This narrative is not so much a neo-colonial one but is instead because "Mali is a victim of structural dominances related to colonialism and its subordinate position in systems of global power. France's intervention is an expression of that rather than an extension of it." In this position of authority, France only has to stay for as long as the other two narratives permit it. Sinking support for the war domestically and the fear of being stuck in a quagmire in the Sahel means it's definitely time to go. Sadly, Mali's domestic affairs have no weight in this equation.