Mali's society is equipped with assets that can help it on its road to peace and stability. What will prove difficult is marrying these with the modern, well-resourced, externally controlled conflict resolution techniques being implemented at present without spoiling them forever.
In the last article, it was set out that the local families in Mali's city of Timbuktu – when organised around traditional values – can be mobilised to perform extraordinary tasks. It is the purpose of this next entry to decipher how this network functions and whether it really harbours any greater potential in creating peace.
Now, it is hard to describe the utility of these systems of mobilization and capacity building in conventional terms. On the whole it feels slightly odd to describe the relationship between Mali's families, hierarchy, religion and traditions as "systems" in the first place. However, it is equally important not to over-romanticise "traditional" Mali. In any case, describing them should merely be seen as a step in understanding them and their potential role in stabilising Mali.
One way that has become useful in describing these is through the term "African Indigenous Knowledge Systems" or AIKSs for short. These are systems that do not necessarily originate from the formal structures of the state and are usually orientated around institutions and figures of distinctive cultural significance. Professor Fred Ben-Mensah explains that AIKSs can overcome the fact that:
"Modern conflict resolution principles and methods are generally not continuations or adaptations of those of its indigenous populations. There is a perceived gap or "disconnect" between modern and indigenous conflict resolution philosophies and practices."
Therefore, Ben-Mensah argues that;
"Chances for peaceful resolution of Africa's conflicts can be enhanced considerably if the region's indigenous principles, skills, and methods of conflict resolution are understood and harmonized with those of the modern nation-state."
Mali is no stranger to the successes that can be achieved if the indigenous and modern can be developed simultaneously. AIKSs in Mali have been used to integrate indigenous knowledge into approaches to reversing desertification and in agricultural management. This has produced a world-leading case study. Other areas AIKS have been realised are in child literacy and maternal health. Peter Easton writes in October 2000 of the successes he saw:
"The traditional African social structure, which assigns deliberative roles to the elders, management tasks to the householders and technical ones to the young people in a manner meant to be synergistic and complementary; and from participatory action research, which entails organizing learning around the tasks required to solve a problem."
In Mali's hour of need, it is now time to realize the potential of Mali's elders, religious teaching and family structures in the capacity of conflict resolution, statebuilding, and contributing to the healing of Mali's battered national consciousness. It is not suggested here that "indigenous" and "modern" are at opposing ends of a spectrum. The point being made here is that there is an over reliance on material, industrialised, and militarised methods of conflict resolution. This approach has been promoted by the world's most powerful states and organisations in a way that leaves local and domestic potential unrealised.
It is time this was changed. Outlined below are three cases where the skills, methods and principles of Mali's elders and unique societal 'systems' can contribute to stabilisation and peace.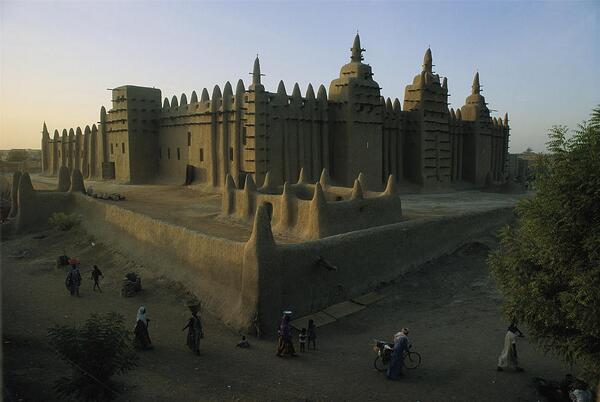 Traditionally, and up to the beginning of the conflict last year, it would have been entirely accurate to describe the Islam of Mali as tolerant and pluralistic. But things changed in the run up to the current instability. In a fantastic report, Reliefweb note that over the last few decades there has been an increase in the construction of new mosques occupied by marabouts – religious teachers – who have been studying in Saudi Arabia or other Arab countries. The Sunni Islam they have learned about in their studies and their comparative wealth to pre-existing religious organisations has not been seen as a problem until now. But during the last 15 months, with increasing Islamist occupation of northern Mali, some of these marabouts suddenly presented themselves as new religious leaders and were even said to have taken part in the fighting.
There has been some response to this showing the pluralism of traditional Malian society. For example, in September 2012 the organising of a conference of ulemas by religious leaders who were members of Mali's High Council of Islam resulted in the issuing of a clarification document in the form of a "memorandum" calling on Muslims in Mali to follow a tolerant and peaceful Islam anchored in the social values of the country.
At the time of the French intervention The High Council of Islam also presented its position on national television stating that the intervention is not directed against Islam, but rather aims to defend Mali's territorial integrity and stop the progress of allied terrorist groups into the south of the country. This action was said "to calm parts of the population who were afraid of the religious developments taking place in the country".
Mali's religious institutions have acted with a sense of national responsibility in the cases above. These must be supported in reclaiming something that is rightfully theirs; their religious tolerance. It is argued here that a measure of peace, security and freedom can be achieved by supporting systems that are already in existence. As a result, Mali can begin to rely less on a War on Terror, Counter-Insurgency or the various other heavy-duty foreign policy techniques.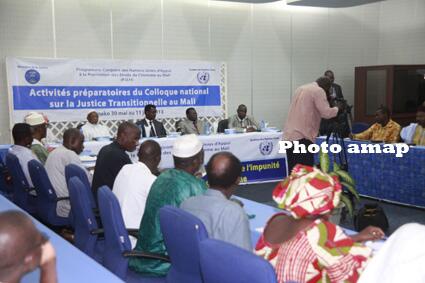 Adding legitimacy to the reconciliation process
As is the norm for international crises, the International Criminal Court (ICC) has been drafted in to investigate allegations of war crimes that have occurred. Its focus on these crimes is encouraging but the ICC has had serious problems in getting its work done in the past. A key issue is legitimacy – can justice be served by any group other than the peoples that the injustices were directed towards? The situation in Mali remains muddled, but from other cases in the ICC's history points towards the idea that without the involvement of local actors, all sense of legitimacy is lost. The internationalized aspect of Malian conflict has the potential to removes legitimacy from reconciliation processes.
Looking to history, this is exactly what happened in Rwanda and Kosovo. Dominik Zaum compares the administration of transitional justice in Rwanda and Kosovo. In both cases he notes that the international criminal tribunals suffered endemic problems of efficacy and legitimacy compared to their poorly funded local counterparts. His conclusions suggest that the ICC does not learn lessons from one region to the next and therefore:
'… [it] leaves one sceptical about the claim [that formal justice systems are] a condition for successful peace- and state-building'
In reference to the perception of the Rwandan people in particular he notes that they have:
'…generally seen international justice as an expensive irrelevance'
What has changed that will prevent the same happening in Mali?
It becomes a quite philosophical problem. What the Western states of the world have to appreciate is that a very specific legalistic approach to justice is a product of how our society has evolved. These methods must be seen to have limitations in contexts outside of the historical circumstances that they were produced by. Restorative justice has to be framed in terms that resonate with the society in hand.
Equally, the type and terms of retribution handed out by the ICC may not be considered sufficient, legitimate, or relevant by the local population. The support that the West can give though is helping to promote successful cases and nurturing a sense of best practice in terms of due-process and upholding human rights. Ben-Mensah highlights that national judicial systems in Africa recognize the existence of traditional conflict resolution systems for their relative competence in matters of local traditions and customs. Some countries have even incorporated them into the national statute. A similar relationship must be nurtured in the way the conflict is handled in Mali, and the network of elder families, their values and history provides a basis to work with.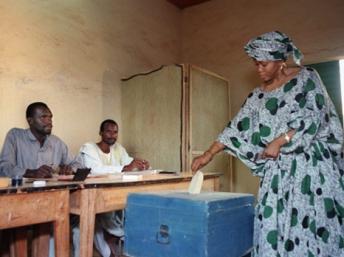 Restore some distance between the international community and the incumbent regime.
We are now over one year on since the coup d'etat in March 2012. It is important to reflect on how the international community originally responded to the armed struggled for control of Mali's governance. Comments from prominent regional and international figures went like so:
President of the African Union commission, Jean Ping: "We no longer accept coup d'états"

ECOWAS, (the Economic Community of West African States): "strongly condemns the misguided actions of the mutineers"

Chief of European Union foreign policy Catherine Ashton condemned the "apparent coup" and called for "democratic elections as soon as possible".
Now, the Malian government has grown into a legitimate partner to the point where a huge amount of suspended aid has begun flowing back in from the developed world and large NGOs. It appears that a certain amount of trust has developed – or the sense of alarm has ebbed – and the government is seen to be an acceptable working partner. The government is operating with an air of "stateliness" despite huge issues that remain concerning the intentions, integrity and competence of the regime, particularly upon the topic of the inequalities between the North and South of the country and the management of upcoming elections.
Though elections have been organized and therefore the incumbent government it generally perceived as temporary, its legitimacy has become enhanced by France's decision to respond to its calls for intervention and the way the Malian government has conducted itself internationally.
Simply put, it is increasingly conducting itself and being treated like a normal government. By concentrating on supporting the capacity and resilience on Mali's elders concurrently with that of the government it creates a strong civil society that can put pressure on the government, "check" its power, and generally make it clear that the incumbent regime – like any in a pluralist and democratic society – should never make itself too comfortable.
*** 
To begin to implement any of the above would be an astonishing undertaking. Mali is not alone in requiring a change of approach to conflict resolution. Has the world already begun to think differently about the role of 'the local' in promoting peace? In the third and final entry on the resilience of Mali's local population, we will look at how this set of elders can be supported in their endeavours by another, quite different, set of "Elders"…